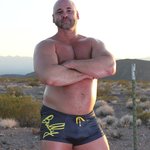 Published on September 16, 2019
Aarin Asker worked the night shift dancing at the club and just came home and crashed on his bed. His roommate Gabriel Fisk noticed walking by his room his ass was up in the air and he could not resist. Gabriel gets on top of Aarin waking him up but he cant resist as Gabriel already has him pinned down and he is ripping off his shirt. Gabriel dives into eating that hairy slut hole and rubbing his thick uncut meat (with PA) against Aarins crack making him beg to get fucked hard and raw. Next thing Aarin knew his legs were up in the air and he was taking his roommates cock bareback and there was not much he was gonna do about it cause he loved it to much! Now this is how you get woken up!
This video was uploaded by the independent content producer indicated. Independent content captures real sex between real men and offers a fresh and fun alternative to studio-produced porn.

If you believe this video infringes on any rights or laws, or doesn't meet the standards expected of this site, please report it immediately by clicking the 3-dot menu and choosing the appropriate reason. The video will be immediately removed and reviewed by our Compliance Team within 24 hours.