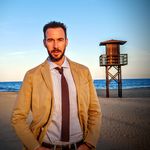 Published on April 25, 2021
This was during LockDown, my boyfriend @NoEsUnaCuentaB fucks me raw, cums all over me and then sticks it back in, making me go wild.
This video was uploaded by the independent content producer indicated. Independent content captures real sex between real men and offers a fresh and fun alternative to studio-produced porn.

If you believe this video infringes on any rights or laws, or doesn't meet the standards expected of this site, please report it immediately by clicking the 3-dot menu and choosing the appropriate reason. The video will be immediately removed and reviewed by our Compliance Team within 24 hours.