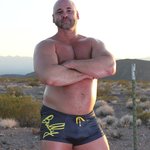 Published on June 24, 2021
Michael Roman was in bed with his hot boytoy Teddy Bryce watching some bareback porn on a hot new site they found. This got Teddy all hot and bothered but Michael had to go to bed early so they snuggled in for the night. But they both started having the same wet dream without knowing it. Michael was making hot passionate love to Teddys tattooed muscle body and shoving his raw cock up that big ass and power fucking his load deep while Teddy was just begging to be used like a slut. They both woke each other up with their cocks cumming over their hot chests and confused and embarrassed with what happened, they made up this fantasy that they both got fucked by the same porn start without knowing each other was lying!
This video was uploaded by the independent content producer indicated. Independent content captures real sex between real men and offers a fresh and fun alternative to studio-produced porn.

If you believe this video infringes on any rights or laws, or doesn't meet the standards expected of this site, please report it immediately by clicking the 3-dot menu and choosing the appropriate reason. The video will be immediately removed and reviewed by our Compliance Team within 24 hours.