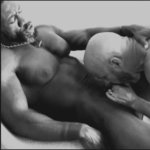 Published on April 13, 2019
Pito Savage draws you in instantly when you look into his eyes wishing you were there with him. This sex monster turns straight SAVAGE as he shows you how thirst he can make you for his HOT BLACK COCK! Watch how he moves his hard muscled body as if it's YOU he's fucking, you'll find yourself with your mouth fantasizing that this Black God has you on your knees being face fucked. He gets you so excited that your dick is leaking precum, your ass is wet and you're waiting for his to drop his nut in your fucking mouth. You've just fell into...
"PITO SAVAGE'S Thirst Trap"