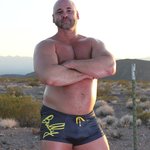 Published on October 25, 2019
Aarin Asker did not waste much time looking up his hot weekend fuck buddy Tyler Reed cause he knew he would get a good hard ass fucking for not keeping in touch. Aarin did not waste any time getting down to business and working on Tylers nips working his way down to that thick daddy cock he desperately wanted. Tyler too was eager to get back into that slut hole so he ripped Aarins shirt and briefs just to get at his hole. Once he seen that hot hairy slut hole he slid his cock right it feeling it had been a well-used hole. Putting Aarin on his stomach, Tyler power fucked that hairy ass until he was begging to be loaded up!
This video was uploaded by the independent content producer indicated. Independent content captures real sex between real men and offers a fresh and fun alternative to studio-produced porn.

If you believe this video infringes on any rights or laws, or doesn't meet the standards expected of this site, please report it immediately by clicking the 3-dot menu and choosing the appropriate reason. The video will be immediately removed and reviewed by our Compliance Team within 24 hours.