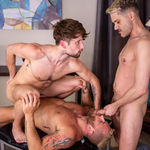 Published on September 27, 2021
The night is yng when you are fucking a sexy man. Drew and David just got in from a long night out and are finally alone. They waste no time getting close and immediately start kissing as soon as they get through the bedroom door. Drew isn't in any rush and takes his time undressing and kissing his man, from head to toe. They then lay on the bed so David can show his ways of pleasing a man. Drew loves looking down at David as he sucks on his cock. He wiggles it for him like a lad with a bone and a happy dog ready to play. But playtime has just begun as Drew flips David on his stomach and lifts his ass in the air. He licks and eats that delicious butt until it's ready for that uncut cock. Drew takes it lightly on his bottom so he can adjust to the feel, but made sure David enjoys every stroke. He then flips him on his back and gives him a real good fuck. David then takes control and puts Drew on his back so he can ride that cock. After a few more positions, including against the wall, Drew is ready to shot his load and puts it all over David's ass with David cumming not far behind.
This video was uploaded by the independent content producer indicated. Independent content captures real sex between real men and offers a fresh and fun alternative to studio-produced porn.

If you believe this video infringes on any rights or laws, or doesn't meet the standards expected of this site, please report it immediately by clicking the 3-dot menu and choosing the appropriate reason. The video will be immediately removed and reviewed by our Compliance Team within 24 hours.