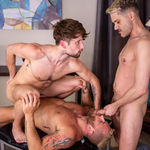 Published on September 30, 2021
Ever see a guy and instantly knew you were going to fuck each other? The minute Drew and Douglas met at the gym, they knew they would fuck. So days later, when Douglas asked if he could stop by, it was no surprise why. Drew carried Douglas into the bedroom and placed him down on the bed, where they begin kissing and removing clothes. Douglas pulls out Drew's hard cock and puts his lips on it. Drew throws his head back as he moans while trying to gag Douglas's throat. Drew likes the attention but would rather sixty-nine, sucking and eating sweet holes. But knowing Douglas didn't come to suck dick, Drew gets him on his knees to fuck, grabbing Douglas's hips and pounding him as they moan. Drew then flips Douglas on his back, playing with his dick as he plows his hole. Douglas takes everything Drew throws at him, inch by hard inch, which turns Drew on more. They fuck all over the bed until they both shoot their huge loads. A fuck worth the wait.
This video was uploaded by the independent content producer indicated. Independent content captures real sex between real men and offers a fresh and fun alternative to studio-produced porn.

If you believe this video infringes on any rights or laws, or doesn't meet the standards expected of this site, please report it immediately by clicking the 3-dot menu and choosing the appropriate reason. The video will be immediately removed and reviewed by our Compliance Team within 24 hours.