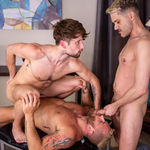 Published on October 3, 2021
A delicious hole goes a long way. Avatar has been trying to fuck Micah for years, but something always came up that took the opportunity away. But Avatar wasn't going to let another one pass them by, especially not when they are sharing a room for this pride event. Once they get in from stripping at the club, they are all over each other. After kissing, Micah drops to his knees and takes Avatar's cock in his mouth, which is already hard and standing up when Micah starts to work on it. He takes it as far down his throat as possible as Avatar face fucks him. Avatar then bends Micah over the couch and eats his furry hole. He grabs both cheeks, spreads them apart, and gets his tongue all up in his ass before standing up and pushing his cock in it. Micah loves taking Avatars' meat and lets him pound his ass until he fills it with his load.
This video was uploaded by the independent content producer indicated. Independent content captures real sex between real men and offers a fresh and fun alternative to studio-produced porn.

If you believe this video infringes on any rights or laws, or doesn't meet the standards expected of this site, please report it immediately by clicking the 3-dot menu and choosing the appropriate reason. The video will be immediately removed and reviewed by our Compliance Team within 24 hours.