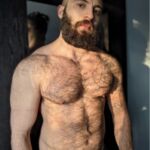 Published on January 13, 2022
In part 2 with @lancecharger & @adamrusso, I grab my strapon and fuck Lance a little while Adam enjoys the view (and receives a nice bj). Then Adam has the great idea to lay Lance and me next to each other and switch off on our holes. He's even coordinated enough to finger me while fucking Lance. We change it up so I'm riding Lance while he and Adam make out, then Adam sits up to support and my riding. Then Adam gets a turn fucking me doggy before switching back to Lance's butt. I enjoy watching them together, and it's clear that Adam is ready to shoot his load. Lance takes the cum like a champ, and of course I eat it back out of his butt. Then it's time for a different pairing as Lance flips me on my back to pound me out and flood me with his load. We all collapse into a satisfied heap...I hope you enjoyed this awesome threesome, I sure did!
This video was uploaded by the independent content producer indicated. Independent content captures real sex between real men and offers a fresh and fun alternative to studio-produced porn.

If you believe this video infringes on any rights or laws, or doesn't meet the standards expected of this site, please report it immediately by clicking the 3-dot menu and choosing the appropriate reason. The video will be immediately removed and reviewed by our Compliance Team within 24 hours.