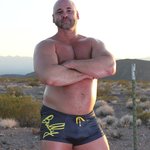 Published on March 18, 2020
Aarin Asker wakes up beside is Big Daddy with a raging hard-on and a desperate need to get his ass barebacked and seeded. Tyler Reed however must get to set this morning so sex is gonna have to wait. But as soon as Tyler leaves Aarin phones one of his old fuck buds Brian Bonds and gets him to come over and treat him like the slut he is. Brian is a little hesitant as they must do this on the down low but cant resist Aarins hairy slut hole. Within minutes Brian is over dominating that loose hole and making his deposit. Unknowingly, Brian no sooner leaves the apartment and Big Daddy returns forgetting something only to have Aarin beg for a load from him saying its been awhile since his slut hole got one!
This video was uploaded by the independent content producer indicated. Independent content captures real sex between real men and offers a fresh and fun alternative to studio-produced porn.

If you believe this video infringes on any rights or laws, or doesn't meet the standards expected of this site, please report it immediately by clicking the 3-dot menu and choosing the appropriate reason. The video will be immediately removed and reviewed by our Compliance Team within 24 hours.